Stay Fit With These Apartment Workout Tips In Fishers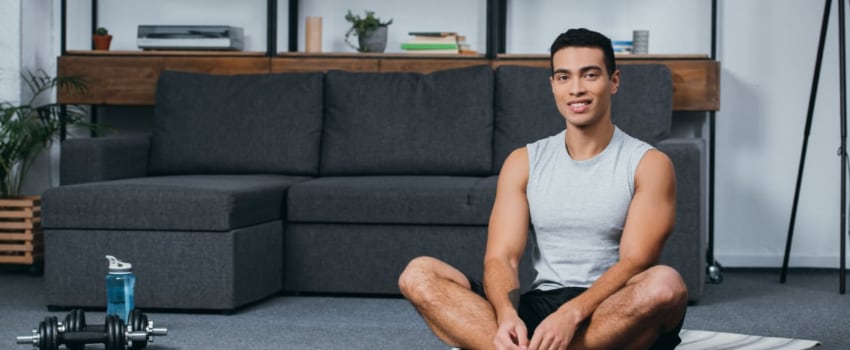 One of the more popular amenities in apartment complexes is the fitness center. In this space you will typically have access to treadmills and stationary bikes, weightlifting equipment, and a range of other training tools to keep you in shape. Regardless of whether you want an impactful 60-minute session or a lighter run, it's simple to head by the neighborhood facility and get your workout. It's even easier if your apartment community has a fitness center that's accessible from morning to night.
But sometimes your schedule doesn't allow for time at the workout center. Thankfully, when you can't go, you're still able to do your daily workout from your own living space. Attempt these ideas for minimal room exercises and improvised weights or equipment during your apartment workouts in Fishers.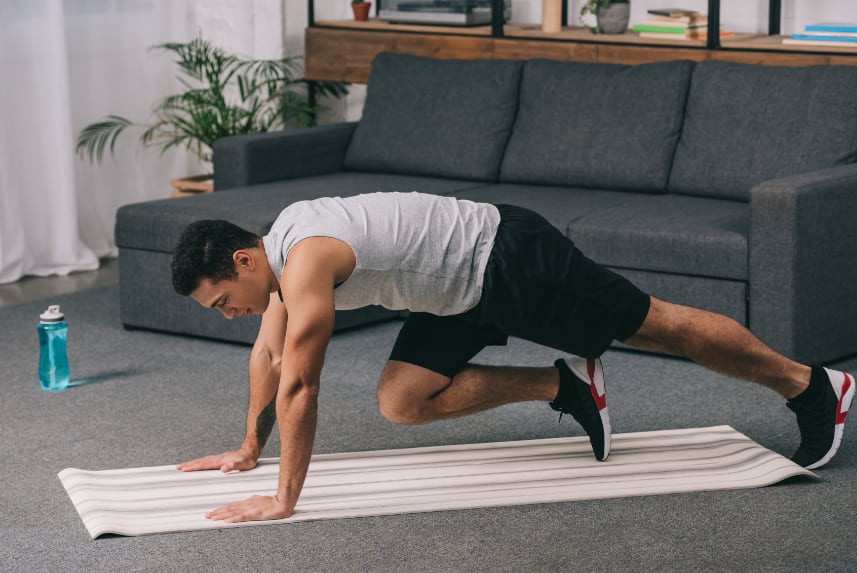 Boost Your Heart Rate With Limited Area Cardio Routines
A difficulty of training in an apartment is a lack of space. If you have extra space in your 2-bedroom or 3-bedroom apartment, you can install a your own makeshift gym, but not all Fishers apartments can hold large pieces of equipment. Luckily, many cardio exercises don't need space or big workout machines to get your heart racing.
To start your apartment workout, locate an open area within your apartment where there is no chance of knocking something over. You only need enough space to reach out your hands or stretch out on the floor without hitting something. Slide furniture over a a foot or so if you must.
When you're situated, try some common cardio drills, including:
Jump rope

Lunges

Burpees

Mountain climbers

Tuck jumps

Jogging in place
Do these drills for 20 to 30 minutes each day, and you'll be sweating as you do on the stair climber or elliptical. If you need some extra motivation, use an online workout video or look into buying an exercise-focused video game.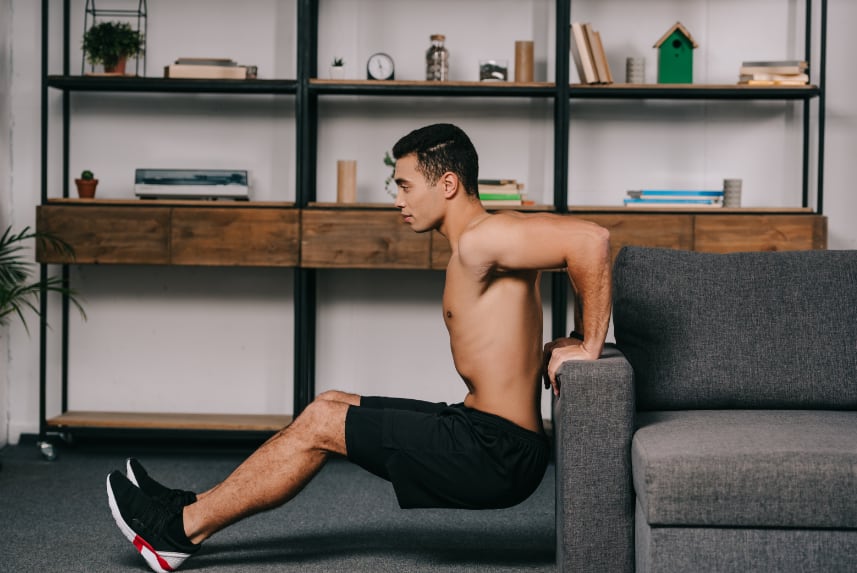 Strengthen Muscle With Quiet Bodyweight Resistance Exercises
Generating too much noise can be an issue with apartment workouts in Fishers when only thin walls separate you from other Residents. If you have neighbors below you, they probably won't appreciate hearing your before-work jumping jacks.
Instead, you can use common drills that utilize your own bodyweight. These simple moves strengthen muscles and joints which leads to better mobility and stability. And unlike your cardio workout, many bodyweight resistance exercises won't require you to jump around. Allocate a small area in your apartment and try quieter exercises, including:
Press-ups

Air Squats

Crunches

Dips

Single-leg balances

Single-leg bridges

Front and lateral raises

Bear crawls
Get Flexible With Yoga And Do It From Anywhere
Yoga and pilates are excellent choices to train in your apartment because you only have to find an area for a mat. This provides ample latitude for the location of your work out to enhance your overall health. Try these routines on your balcony or patio, in your entertaining space, or next to your bed. There are even yoga moves that are easily done right from your bed!
You also have the chance to get innovative with yoga and pilates equipment too. If you don't have space to store yoga mats or dumbells, try robe ties as bands, filled water bottles for dumbbells, and a folded blanket for yoga blocks.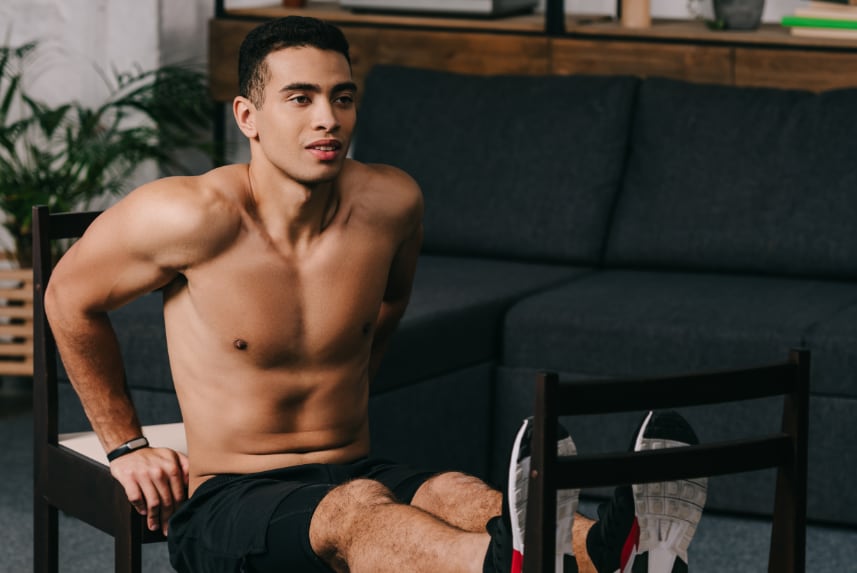 Diversify Your Fishers Apartment Workouts With Makeshift Equipment
Conditioning your body gets boring and ineffective when you do the same routine every day. Bring a little diversity to your limited-area regiment by mixing in some weight lifting. There's no need for a a bunch of expensive dumbbells or a standard bench. Simply use things in your apartment, like:
Heavy books

Water jugs

Packaged dog food

12-packs of a canned beverage

Bags of beans or rice

A backpack filled with books or cans

A gallon of milk
When you can't seem to get over the lack of gym equipment, get creative with your furniture. Couch arm rests and chairs from your dining set can offer a solid base for weight lifting and balance training. Making do with things in your home for your Fishers apartment workouts might feel a little awkward in the beginning, but don't allow that to get in the way of your training objectives. In a short time, you will construct a worthwhile workout to do at home when the fitness center is not available.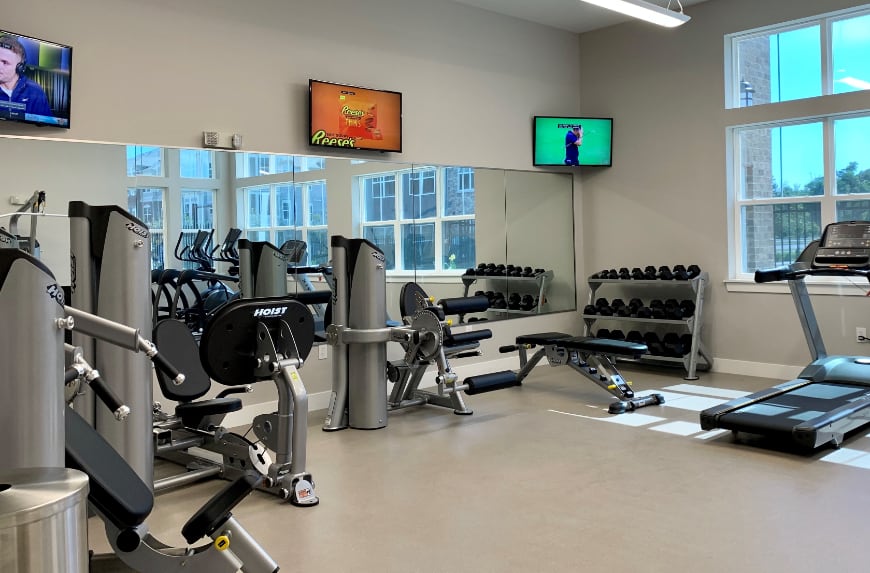 Bring Your Active Lifestyle To Spark Apartments In Fishers
When trying to find the right apartment for your physical fitness needs, plan a visit to Spark Apartments. We provide spacious floor plans, sought-after features, and a health center that's open morning to night. Our Leasing Specialists are ready to help you find the right apartment for you. Make an appointment today by calling 463-210-1702 or by selecting the "schedule a tour" button.